NOBLESVILLE, Ind – On the final day of the Adidas 3SSB stop just outside of Indianapolis, we saved one of the best performances for last as top 20 sophomore Paul McNeil showed why he's so highly recommended.
We spent much of the day focusing on underclassmen and want to take a look at some who stood out on Sunday and others that we saw throughout the weekend — like 2025 stud Koa Peat — but didn't get a chance to write about.
MCNEIL SHOWS OFF SMOOTH GAME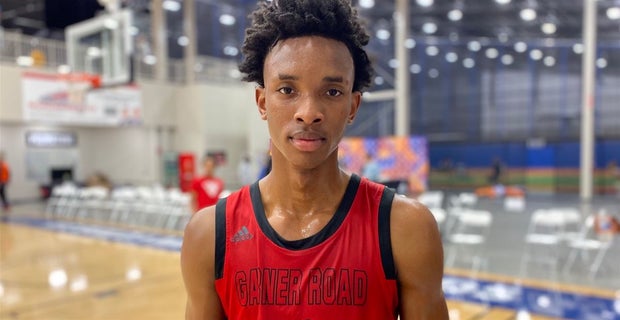 For our final game of the weekend, we dropped in on Paul McNeil of Garner Roads 16U team and his play provided a more than fitting sendoff for the weekend.
Currently ranked No. 16 overall by 247Sports in the class of 2024, McNeil more than backed up his lofty status. Where to start with what makes him so good? He's got 6-foot-6 size, he plays with great pace, he is being coached by longtime NBA player David West, he can really pass and most of all he is an elite shooter from deep. Each and every time McNeil pulls up from deep, you get the feeling that the ball is going in.
McNeil isn't a crazy athlete, but he moves well, has good agility and can play under control and fast at the same time. His maturity on the floor is well beyond his years. NC State head coach Kevin Keats was locked in until the end and the Pack have offered. McNeil also listed offers from Clemson, Indiana and Tennessee among others and has been on the campuses of Clemson, NC State, North Carolina and Wake Forest.
CAN'T DISCUSS 2025 WITHOUT PEAT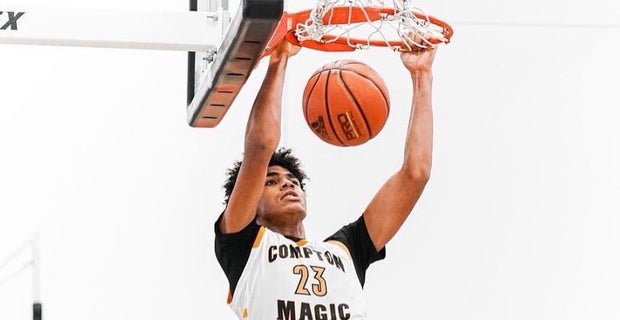 We won't be ranking the class of 2025 until at least late August or early September. A few things are clear at this early stage of the spring. For one, the class of 2025 is already looking quite promising after some down classes in 2023 and 2024 and that when we discuss the top player in the class, Koa Peat has to be in the conversation.
The solidly built 6-foot-8 forward was a machine all weekend long playing up at the 17U level for the Compton Magic.
Maybe Paolo Banchero isn't a perfect comparison, but if we go back a few years his play was very similar to what Peat is doing now. An incredible offensive rebounder with toughness, skill and a quiet competitive drive, Peat is doing to the Adidas circuit what Banchero did to the Nike circuit as a high school freshman. Regardless of comparison, it isn't often you see a player who is as young as Peat be so dominant on the glass, so productive and make it look so easy against older players.
Arizona, Arizona State, Kansas, Texas, Texas Tech, UCLA, USC and Washington are among those to have offered.
MORE UNDERCLASSMEN NOTES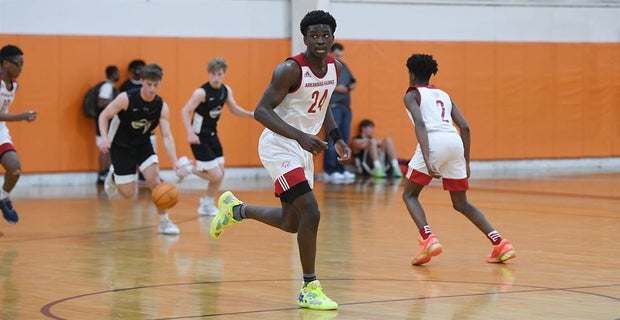 Annor Boateng, SF, Arkansas Hawks 16's- Already ranked No. 36 overall in the class of 2024, Boateng is a physically tough wing who is blessed with plenty of athleticism. Physically, the dud already looks like a college player and he really carries himself with maturity on the floor never getting too high or too low. He hit a few open jumpers, did damage in transition and has already been on campus at Arkansas, Auburn and Memphis and all three plus others like Oklahoma State and Texas A&M have offered.
Eli Delaurier, PF, Team Loaded VA 16's- A Sunday morning look at Delaurier was a good one. He's got a long and lean frame that will carry more muscle, he can run the floor, he competed some on the glass and showed promise as a faceup jump shooter. Old Dominion, Radford, Texas A&M, Virginia Tech and West Virginia gave early offers but those can be tricky. Based on Sunday's play, he certainly looks like some more high majors should track.
Ian Jackson, SG, New York Wiz Kids- Currently ranked as the No. 2 overall player in the class of 2024 by 247Sports, there is zero doubting Jackson's gift for scoring the ball. He can drive, he can shoot from deep and when he needs it, he can dial up his athleticism and go over the top of pretty much anybody he wants to. The game comes awfully easy to him on the offensive end of the floor.
Peyton Marshall, C, Game Elite 16's- It is going to be interesting to watch the development of this massive, big man from Georgia. According to his coaches, Marshall has lost around 80 pounds over the last year or so to get down to about 300 pounds. He's a gigantic human who is pretty nimble on his feet, has strong hands and kids at the 16U level just bounce off of him.
Jonathan Powell, SG, Wildcats Select 16's- One of the better performances of anybody we saw on the 16U level came from Powell. A smooth 6-foot-4 scorer from Ohio, he was banging jump shots from all over, moving around the floor with grace and exuding confidence. He's got plenty of room to grow into his frame and his Sunday play earned him an offer from Illinois who had an assistant coach on hand for his scoring barrage.
Chance Puryear, SF, Southern Assault 16's- A good sized wing at 6-foot-6, Puryear is an intriguing long-term guy. He is a good athlete who is dangerous in transition and along the baseline and he looks to have some potential as a jump shooter. He looks like one of the more promising wings from Texas in the sophomore class.
Khani Roots, SF, New World- Coming off an excellent showing at USA Basketball, the 6-foot-7 small forward who already ranks No. 23 nationally looked pretty comfortable playing up on the 17U level. He moves differently than just about anybody else on the floor making things look really easy. He's got the potential to push for a fifth star if he can just ramp the motor and production up to a bit more consistent level. Georgetown was tracking closely as were many others and he's got offers from Indiana and Virginia Tech. Presumably, the new staff at Maryland will prioritize him as well.
Micah Smith, F, Atlanta Celtics 16's- Playing through a little bit of a shoulder injury, Smith looked pretty good on Sunday. A versatile combo forward, what we like about Smith is that he can face up, attack off the dribble and make plays for himself or others once he gets it into the paint. He does a solid job on the glass and has some shooting touch as well.
Kur Teng, SG, Mass Rivals- A top 35 ranked player in the sophomore class, Teng is always solid, plays smart and is a dangerous jump shooter. He's got soft touch on floaters, has improved his ability to create a shot off the dribble and doesn't get ratted by tough coaching. He's another young player that stood out mostly because of his maturity and presence on the floor.
Dillon Tingler, SF, Wildcats Select 16's- A 6-foot-7 wing who can shoot it from deep, Tingler doesn't yet have any reported offers but that should be changing. He plays with some pop in his game and has great energy and confidence. In addition to his shooting from deep and positional size, he's a pretty good athlete who can get things done attacking the rim.